Recoleta: Hystory and Glamour
Recoleta is a 'barrio' or neighbourhood in Buenos Aires, Argentina. It is known for its cafés, galleries, glamour places and the historical sites.
Recoleta is part of the area known as Barrio Norte, together with the neighbouring barrios of Retiro, Palermo and the northern part of Balvanera.
The barrio has been referred to as the 'Paris of the Americas'. Many French-style palaces and villas were built in the area, especially on Avenida Alvear, and the verdant squares are known for their cafés. Recoleta hosts the Biblioteca Nacional, Museo Nacional de Bellas Artes, the Palais de Glace, the Facultad de Derecho, the Universidad of Buenos Aires and the Centro Cultural Recoleta, sites that confirm the barrio as the artistics and cultural heart of the city.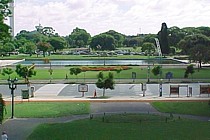 To know the barrio it is recommended to have a walk in the zone between Avenidas Alvear, Quintana and Callao; and the Posadas, Ayacucho, Guido and Rodríguez Peńa streets.

Nightlife here is very active too, with the pedestrian passage RM Ortíz known for its restaurants.

Even though is is a residential barrio, it possible to find a nightlife quarter enclosed between the streets Ortiz, Guido y Vicente López; closed to the La Recoleta Cemeterio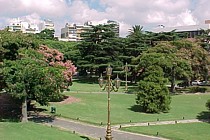 Inside this area stands the Buenos Aires Design Recoleta,greatly demanded for its qualified architectural and decoration shops and for its terrace with different types of Bars and Restaurants, some of them with live music. Plaza Francia , very closed, every week end reborn with its craft markets and its unique street shows.

Between Vicente López and Junín stands the Village Recoleta, 16 cinemas, book shops and picturesque bars and restaurants.
La Isla, enclosed between Gelli ,Obes , Copérnico, Galileo streets is dominated by sophisticated and high class buildings and embassies.